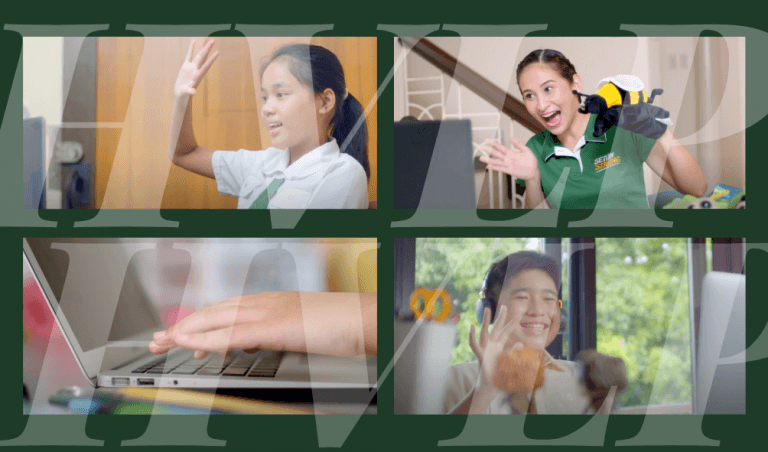 Home-Based Virtual Learning Program (HVLP).  Elizabeth Seton School implemented a new learning program designed to cater  to the demands of online education, in preparation  for the school year 2020-2021, which officially started last August 24, 2020.
The School President, Dr. Roberto T. Borromeo, conceptualized the program with the objective of providing quality Catholic education grounded on the school's Vision-Mission. The new learning program aims to provide Setonians a safe and comfortable learning environment while ensuring the continuation of education despite the hindrances brought upon by the pandemic. 
The school informed the Department of Education about the HVLP in May 2020 which was also the start of varied training programs for the faculty and staff to help them prepare and adjust for the New Normal. Learners were likewise provided the orientation to help them navigate ELIZA and Zoom. An online orientation for parents was also given to equip them with knowledge about HVLP policies, activities, and services for the academic year.
Educational Links for Integrative Systems Applications,  also known as ELIZA, is the improved version of the school's Learning Management System, which incorporated learning resources, G -Suite, and Zoom platforms. This was designed to guarantee authentic assessment and teacher support geared towards Learner Excellence and Development (LEaRNLEaD),  which is the basis of HVLP in ensuring its effectiveness in the transition to online education. 
Synchronous and asynchronous classes are scheduled for each level. Teachers  support the idea as they deliver lessons through the use of various learner-centered strategies during online discussions and assessments for students to hone their skills. Aside from the platforms offered by ELIZA, Seton also makes use of Nearpod, Padlet, Hyperdocs, Kahoot, Whiteboardfi, Moodle, etc. to make discussions more interesting and entertaining  for students. 
Miss Nenet Ayson, High School Assistant Principal, gave words of encouragement to teachers as they adjust in this new mode of teaching: "For my fellow teachers, I know that teaching online demands a lot of newness in us. Just take this as an opportunity to create a more engaging, interactive experience for our students, and take full advantage of the available technology the school provides. While we cannot replicate the in-person back-and-forth of a classroom, encouraging students to virtual discussion of individuals or groups to work as one, can help mimic the collaborative environment we had before during the face-to-face education. This will also motivate students to succeed and allow them to turn to each other as they work with different learning materials. Therefore, it will also ease the difficulty of students in this new normal." 
The school management aims to continuously develop and enhance the HVLP, for it to be more beneficial to Setonians as they experience the New Normal. 
/*! elementor – v3.13.3 – 28-05-2023 */ .elementor-heading-title{padding:0;margin:0;line-height:1}.elementor-widget-heading .elementor-heading-title[class*=elementor-size-]>a{color:inherit;font-size:inherit;line-height:inherit}.elementor-widget-heading .elementor-heading-title.elementor-size-small{font-size:15px}.elementor-widget-heading .elementor-heading-title.elementor-size-medium{font-size:19px}.elementor-widget-heading .elementor-heading-title.elementor-size-large{font-size:29px}.elementor-widget-heading .elementor-heading-title.elementor-size-xl{font-size:39px}.elementor-widget-heading .elementor-heading-title.elementor-size-xxl{font-size:59px} 𝐓𝐡𝐞 𝐕𝐞𝐢𝐧𝐭𝐢𝐜𝐢𝐧𝐜𝐨 𝐕𝐢𝐬𝐢𝐨𝐧: 𝐂𝐞𝐥𝐞𝐬𝐭𝐢𝐚𝐥 𝐑𝐞𝐧𝐚𝐬𝐜𝐞𝐧𝐜𝐞 𝐕𝐨𝐥𝐮𝐦𝐞 𝐗𝐈: 𝐈𝐬𝐬𝐮𝐞 𝐍𝐨. 𝟏 ESS-South
/*! elementor – v3.13.3 – 28-05-2023 */ .elementor-heading-title{padding:0;margin:0;line-height:1}.elementor-widget-heading .elementor-heading-title[class*=elementor-size-]>a{color:inherit;font-size:inherit;line-height:inherit}.elementor-widget-heading .elementor-heading-title.elementor-size-small{font-size:15px}.elementor-widget-heading .elementor-heading-title.elementor-size-medium{font-size:19px}.elementor-widget-heading .elementor-heading-title.elementor-size-large{font-size:29px}.elementor-widget-heading .elementor-heading-title.elementor-size-xl{font-size:39px}.elementor-widget-heading .elementor-heading-title.elementor-size-xxl{font-size:59px} 𝐓𝐡𝐞 𝐕𝐞𝐢𝐧𝐭𝐢𝐜𝐢𝐧𝐜𝐨 𝐕𝐢𝐬𝐢𝐨𝐧: 𝐂𝐞𝐥𝐞𝐬𝐭𝐢𝐚𝐥 𝐑𝐞𝐧𝐚𝐬𝐜𝐞𝐧𝐜𝐞 𝐕𝐨𝐥𝐮𝐦𝐞 𝐗𝐈: 𝐈𝐬𝐬𝐮𝐞 𝐍𝐨. 3 ESS-South
/*! elementor – v3.13.3 – 28-05-2023 */ .elementor-heading-title{padding:0;margin:0;line-height:1}.elementor-widget-heading .elementor-heading-title[class*=elementor-size-]>a{color:inherit;font-size:inherit;line-height:inherit}.elementor-widget-heading .elementor-heading-title.elementor-size-small{font-size:15px}.elementor-widget-heading .elementor-heading-title.elementor-size-medium{font-size:19px}.elementor-widget-heading .elementor-heading-title.elementor-size-large{font-size:29px}.elementor-widget-heading .elementor-heading-title.elementor-size-xl{font-size:39px}.elementor-widget-heading .elementor-heading-title.elementor-size-xxl{font-size:59px} 𝐓𝐡𝐞 𝐕𝐞𝐢𝐧𝐭𝐢𝐜𝐢𝐧𝐜𝐨 𝐕𝐢𝐬𝐢𝐨𝐧: 𝐂𝐞𝐥𝐞𝐬𝐭𝐢𝐚𝐥 𝐑𝐞𝐧𝐚𝐬𝐜𝐞𝐧𝐜𝐞 𝐕𝐨𝐥𝐮𝐦𝐞 𝐗𝐈: 𝐈𝐬𝐬𝐮𝐞 𝐍𝐨. 𝟐 ESS-South