Compassion in the Wake of Adversity
"All of us, at some time or other, need help. Whether we're giving or receiving help, each one of us has something valuable to bring to this world." – Fred Rogers, The World According to Mister Rogers
Human nature is riddled to the brim with complexities and flaws that continue to perplex even the greatest of scientists until this day. Yet, underneath all these psychological twists-and-turns, humans have subconsciously and quite stubbornly retained a certain quality which is compassion.
On the 11th of March 2020, the World Health Organization (WHO) officially declared the Coronavirus outbreak as a pandemic. With this, Metro Manila was put on partial lockdown the following day. However, as the number of cases slowly increased, the rest of the Philippines was quickly added to the equation. The fallout of the disease, alongside various natural calamities, resulted in the increase of unemployment producing major damage to our country's economic state.
In light of these events, the Setonian Community has outstretched their hands by establishing the Setonian AKBAYanihan program. This is Elizabeth Seton School's very own fundraising drive and emergency disaster relief response. Monetary donations through the different bank details were accepted, as well as in-kind donations that were dropped off at the Las Piñas Campus' grandstand and Gate 1 of the Cavite Campus. A total of Php 191,200 was collected, along with 422 bags of water, food, and hygiene kits (as of November 27, 2020). These were distributed accordingly to the Social Action Center of the Diocese of Legazpi, Albay and Bayombong, and Nueva Vizcaya, and areas in Dingalan and Aurora Quezon.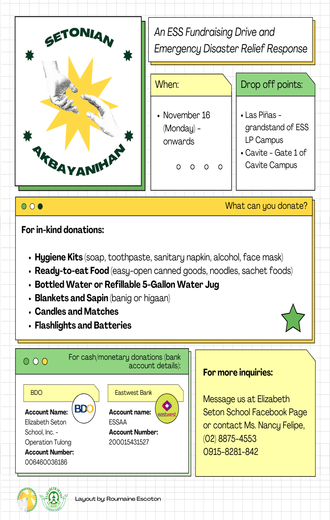 Several Setonians have also taken it upon themselves to host donation drives and help aid the victims of recent events. One of them being Maria Juliana A. Miranda, a student from Grade 10 – Noveleta, who chose to host a donation drive with her cousin and friend. Through help from relatives, friends, and schoolmates, they were able to raise a generous amount of money with a total of P13,516.70. It was then donated to Aksyon ng Kabataan Organization (@ako.orgph), a non-profit organization.
"I think that this organization is led by the youth to promote youth initiative. It's one of the reasons why we chose that organization," explained Juliana. "As far as I know, the donations went to one of these places: Cagayan, Marikina, Batangas, Albay, Isabela, and Rizal."
During the lockdown, Justine Tiffany A. Moraño, a student from Grade 10 – Maragondon, drew artworks and visuals for SUGilanon PH. It is an organization that aims to manage reliable news outlets, spread verified information about the pandemic and several social issues, and mitigate misinformation that can potentially harm people. Additionally, they have also held seminars to help people cope with the quarantine period.
It's never too late to give what you have to support those who need it most. Whether it be through hosting donation drives or joining youth organizations, we have the ability to help those around us, even as students. Despite our many shortcomings, compassion is still deeply rooted within the nature of human beings, and this will never be lost on us.
/*! elementor – v3.12.1 – 02-04-2023 */ .elementor-widget-image{text-align:center}.elementor-widget-image a{display:inline-block}.elementor-widget-image a img[src$=".svg"]{width:48px}.elementor-widget-image img{vertical-align:middle;display:inline-block} /*! elementor – v3.12.1 – 02-04-2023 */ .elementor-heading-title{padding:0;margin:0;line-height:1}.elementor-widget-heading .elementor-heading-title[class*=elementor-size-]>a{color:inherit;font-size:inherit;line-height:inherit}.elementor-widget-heading .elementor-heading-title.elementor-size-small{font-size:15px}.elementor-widget-heading .elementor-heading-title.elementor-size-medium{font-size:19px}.elementor-widget-heading .elementor-heading-title.elementor-size-large{font-size:29px}.elementor-widget-heading .elementor-heading-title.elementor-size-xl{font-size:39px}.elementor-widget-heading
/*! elementor – v3.12.1 – 02-04-2023 */ .elementor-widget-image{text-align:center}.elementor-widget-image a{display:inline-block}.elementor-widget-image a img[src$=".svg"]{width:48px}.elementor-widget-image img{vertical-align:middle;display:inline-block} /*! elementor – v3.12.1 – 02-04-2023 */ .elementor-heading-title{padding:0;margin:0;line-height:1}.elementor-widget-heading .elementor-heading-title[class*=elementor-size-]>a{color:inherit;font-size:inherit;line-height:inherit}.elementor-widget-heading .elementor-heading-title.elementor-size-small{font-size:15px}.elementor-widget-heading .elementor-heading-title.elementor-size-medium{font-size:19px}.elementor-widget-heading .elementor-heading-title.elementor-size-large{font-size:29px}.elementor-widget-heading .elementor-heading-title.elementor-size-xl{font-size:39px}.elementor-widget-heading
/*! elementor – v3.10.2 – 29-01-2023 */ .elementor-widget-image{text-align:center}.elementor-widget-image a{display:inline-block}.elementor-widget-image a img[src$=".svg"]{width:48px}.elementor-widget-image img{vertical-align:middle;display:inline-block} /*! elementor – v3.10.2 – 29-01-2023 */ .elementor-heading-title{padding:0;margin:0;line-height:1}.elementor-widget-heading .elementor-heading-title[class*=elementor-size-]>a{color:inherit;font-size:inherit;line-height:inherit}.elementor-widget-heading .elementor-heading-title.elementor-size-small{font-size:15px}.elementor-widget-heading .elementor-heading-title.elementor-size-medium{font-size:19px}.elementor-widget-heading .elementor-heading-title.elementor-size-large{font-size:29px}.elementor-widget-heading .elementor-heading-title.elementor-size-xl{font-size:39px}.elementor-widget-heading